Widely called 'the most dangerous place in Toronto to be a kid', Jane and Finch neighborhood has a long-time reputation of being a hotspot for the local criminal gangs, sole-supported families and immigrants. Worth noticing, over half of the area habitats live below the poverty line in Canada. Who could even imagine that sports may become a way of life for some of the Jane and Finch youngsters? Especially tennis, this prestigious and often costly discipline!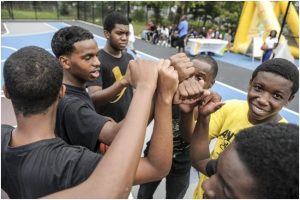 Luckily, in 2006 Tennis Canada initiated building of the tennis community capacity in a joint effort with Jane and Finch neighborhood leaders. Using tennis as a trigger, the Building Tennis Communities (BTC) strategy focused on developing a healthy community where children would get involved in sports habits. That would significantly influence their school performance and help better settle in life.
In a few years, Jane and Finch tennis community noticeably grew in number. Within 2008-2009 season leagues, over 140 participants joined the registration, including volunteers from San Romanoway Revitalization Program. 2009 summer league was already held at the newly refurbished tennis courts at the Grandravine Community Centre. The Tennis Association got powerful enough to offer around 10 scholarships for the promising participants to develop further their skills. In addition, many Association members have become coaches of the younger participants with time. For sure, this also brings some valuable life experience and soft skills.
Now Jane and Finch Tennis Association organizes tennis leagues for boys and girls several times a year. With financial assistance of the local private sports clubs, participation in the leagues costs just $10 for each member, which is more than affordable in terms of tennis. Young league players learn the basics of team settings and get matched with the tennis players possessing similar skills and abilities. Their coaches are young people aged between 16 and 20, who take their job seriously and responsibly organize all tennis-related drills.