This year's edition of the world famous tennis contest in France was not only marked with a first-time-in-history withdrawal of the two champions of the Australian Open right before the tournament, but also with several phenomenal wins made by the outstanding Canadian players. Gabriela Dabrowski, Bianca Andreescu, Carson Branstine, all appeared on the covers of the sports press. Sadly, Milos Raonic did not manage to take another big victory, but still did a good job. Inspired for further success, they all returned home from the 116th French Open, which took place at Stade Roland Garrosin Paris from 28 May till 11 June.
Gabriela Dabrowskiemerged as the female tennis player in Canada awarded with a Grand Slam title. Aged 25, Gabriela from Ottawa unexpectedly gloried within the international tennis community after being crowned a mixed doubles champion at French Open together with Rohan Bopanna of India. The pair got advantage of 2 points in a tense match against Colombian Robert Farahand Anna-Lena Grönefeld of Germany: 2-6, 6-2, 12-10. For Dabrowski and Bopanna it was the first mixed doubles final: the game is only held4 times a year as a part of Grand Slam sessions and during the Olympic Games. The pair got united at last year's US Open and since then, they have gone through several dramaticmatches, including their loss during the Australian Open in January 2017.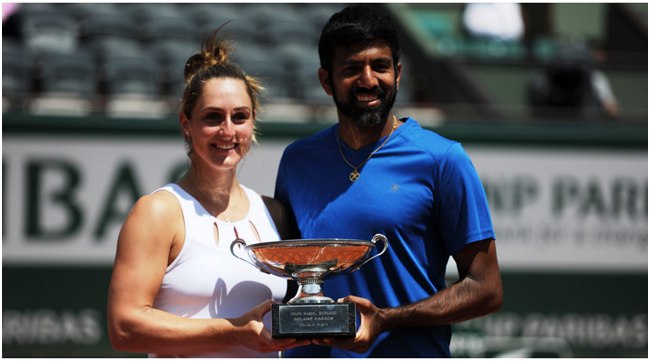 From the very beginning of her tennis career, Gabriela Dabrowski proved to be a promising player: in 2010, she was ranked 5th within ITF, before that Dabrowski was the only junior to become a champion of "Les PetitsAs" tournament for 14-and-under-year-olds and also the youth division of the Orange Bowl in 2009. Coached by her father Yurek, Gabriela has never truly made it as a single, which is for some reasons treated as more prestigious in tennis, even though most Canadian top results have been achieved in doubles. Anyway, Dabrowski does not give up on her career in singles and currently ranked 281 in the world.
Speaking about doubles, this time Canadian juniors Bianca Andreescu and Carson Branstine also brought a French Open trophy in the category. Aged 16, the girls forced out Russians Olesya Pervushina and Anastasia Potapova in 57 minutes. Previously, the pair got similar honored titles during the Open in Australia. This adds to more than one Slam titles at a time, which was already once achieved by Canadian tennis players Eugenie Bouchard and Filip Peliwo during Wimbledon in 2012.